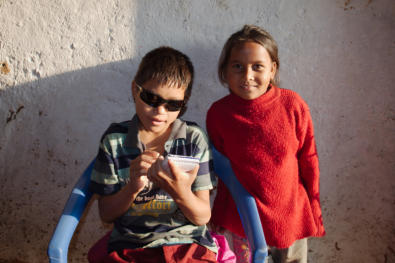 All Photographs (c) Michael Fingleton

Huge Earthquake in Nepal - The Children are Safe - April 2015
About 11am Saturday local time a huge earthquake struck Nepal.
News is still emerging but the scale of death and destruction is truly staggering. The country will need
help more than ever to recover.
Fortunately Khandbari was not hit hard.
The children are all safe and it doesn't sound like much damage to buildings in the town.

Michael back in Nepal - October 2015
Michael is back in Nepal with a full itinerary planned.
The main goal this year is to bring Sundar and Sammar back to their villages in Yaphu.
He also plans to bring Rabin to Kathmandu to look at schools for him to attend after he completes the
SLC exams next year.

India Border Blockade - Fuel Crisis - Sept 2015
Starting Sept 23rd 2015 there has been a blockade of the Indian border which
basically cut the supply of all fuel to Nepal - both vehicle fuel and cooking gas.
The blockade has lead to transportation problems, the closure of many restaurants
and real struggles for those already trying to recover from the earthquake.
No international flights are able to refuel in Kathmandu and this has lead to some
airlines canceling service.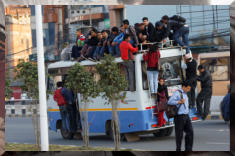 Nepal Has a New Constitution - Sept 2015
During the week the constituent assembly in Nepal approved a constitution for the country.
The news has received very mixed responses.
While some groups welcome the news others suggest that the government should have been
concentrating on earthquake recover efforts during this time.
Some groups are already protesting provisions in the document. Particularly those related to
representation in the government, the division of the country into seven provinces and citizenship
entitlement.

Border Blockade Lifted - Feb 2016
The Madhesis parties this week called off their blockade of the border with India.
There is real hope now that supplies of fuel, medicines and other necessary goods will resume quickly.

Brecon Estate - May 2016
Our friends at Brecon Estate in Paso Robles, CA will be hosting an
information table at their annual Wine Club pick up event on May 1st.
Please stop by if you'd like to learn more about our efforts in Nepal.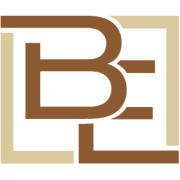 Silicon Valley Irish Fleadh - May 13th and 14th 2017
Come visit us in person at the Silicon Valley Irish Fleadh in Mountain View, California.
We will have a tent at the event and be there to answer questions and to take
donations.
Many thanks to Erik Barry and everybody at St. Stephen's Green in Mountain View
for inviting us to be part of the event.
Visit the Silicon Valley Irish Fleadh Facebook Page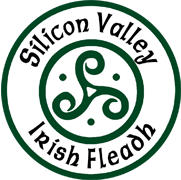 Rabin and Kopila Leave the Orphanage
In April Rabin and Kopila completed their SLC exams. One week later the local
committee asked them to leave the orphanage. To complicate things further Kopila
has a 14yo sister who was sent to live with her. We have rented a room for Kopila
and Kamila. Kopila will now study a computer course. Kamila will attend the local
government school. We have kitted them out with bedding, kitchen etc.
We will put Rabin in a hostel and +2 school in Kathmandu in July when admissions
open. At the moment he is staying with his brother in Chewa.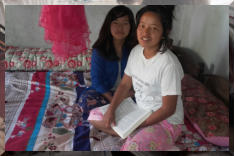 Thank You
Allison Wang generously donated an advert in Wingspan, the school magazine for the Harker Upper
School. Thank you Allison for spreading the word about our small organization !!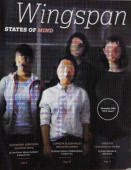 Thank You
John and Aileen got married on Oct 2nd 2016
They very generously asked guests to donate to our charity rather than giving wedding gifts.
We wish John and Aileen a very happy future together.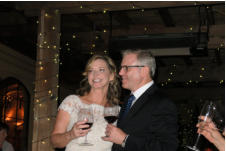 Sundar is now in Kathmandu
In April 2017 Michael travelled to Nepal with a primary goal of relocating Sundar to a new school
and hostel in Kathmandu. Read the trip report for more details.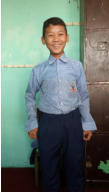 Kopila and Santosh Left our Care
Kopila recently ran away and got married. She did not complete her college course. 4 years ago
some of the other children told me not to pay for Kopila's education as she would elope first.
Unfortunately they were correct. After recovering from the shock I do take some solice in that we
got her to 18 years old before she made that choice.
Santosh is also in trouble. The committee expelled Sammar, Santosh and Sundar before we took
control. Santosh was staying with his mother in less than ideal conditions. He was not going to
school and not staying at home. I gave him 2 options; either attend school every day and we will
continue to fund or return to the orphanage. He chose a third option and ended up in prison for
a few days. As of now we have stopped funding. We have invited him back to the orphanage but
he has declined.
We are leaving the door open for both to return.